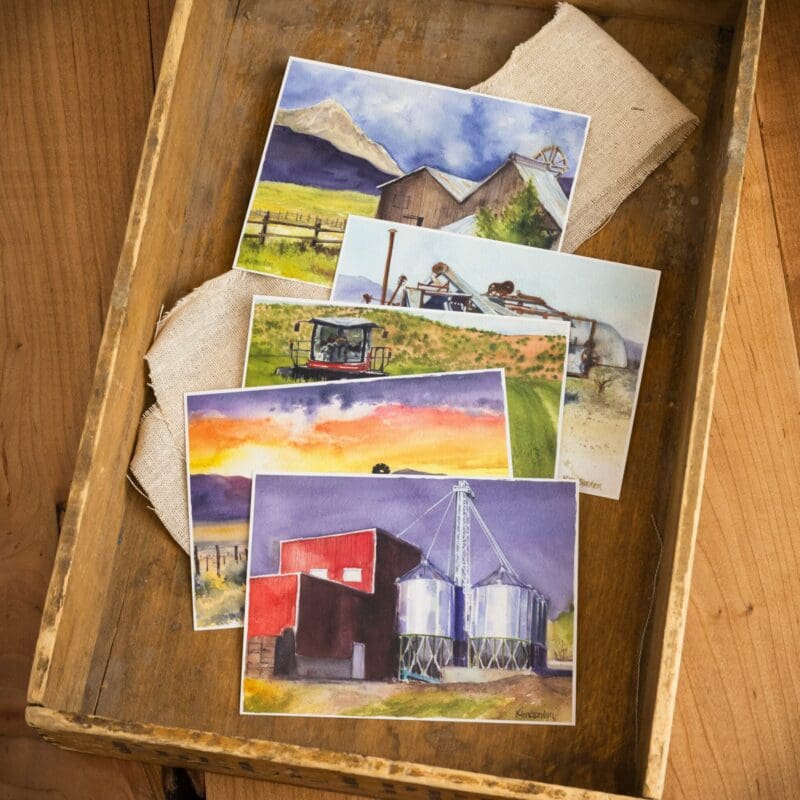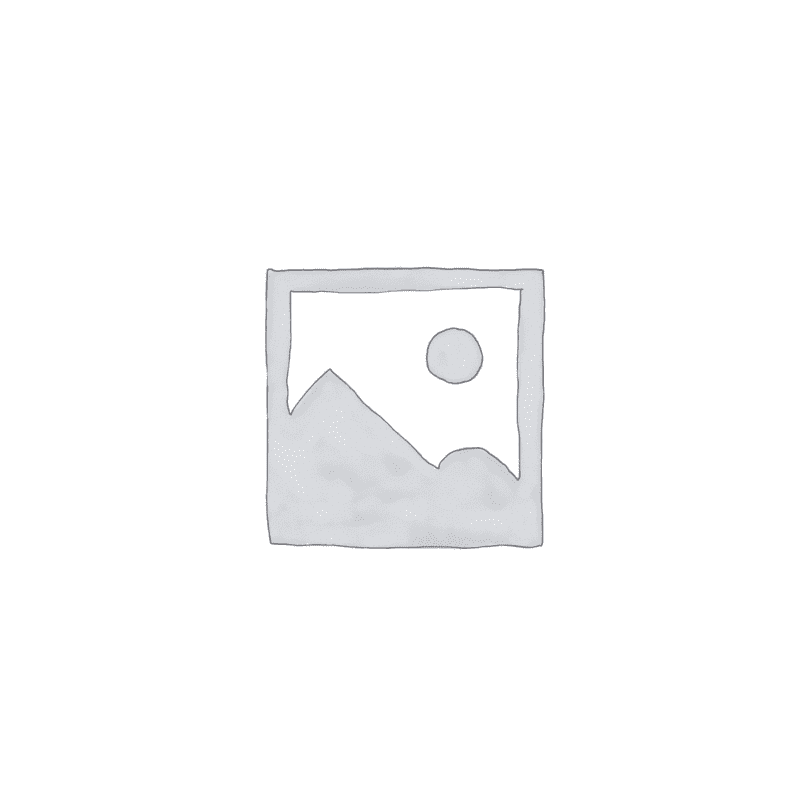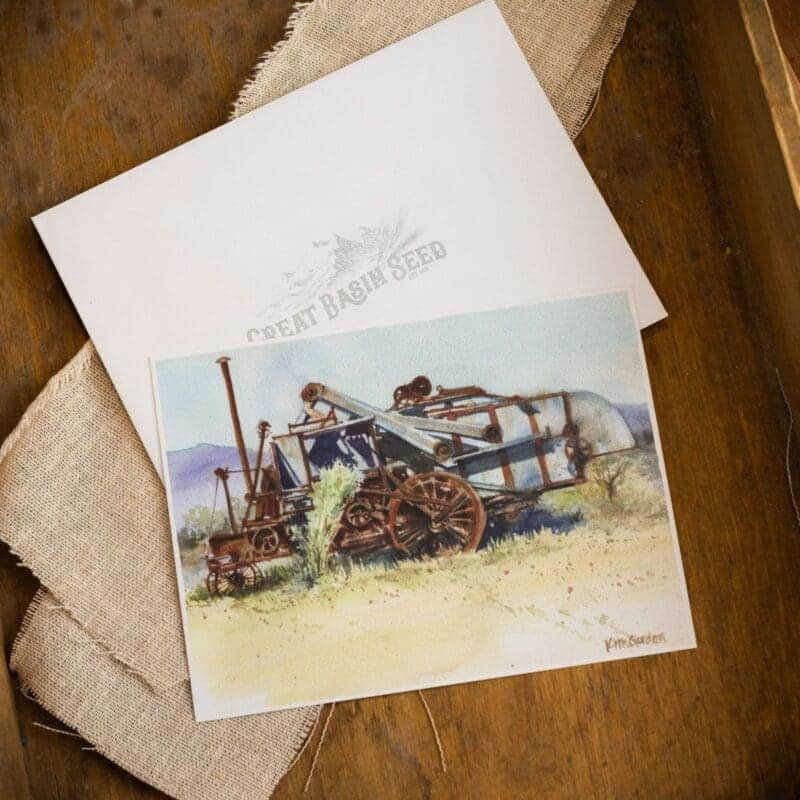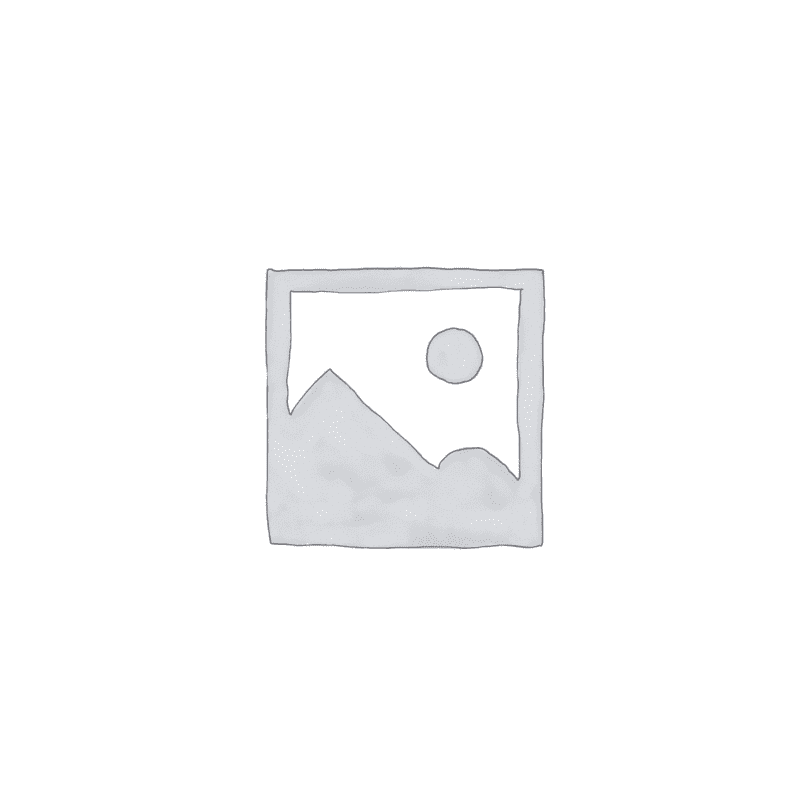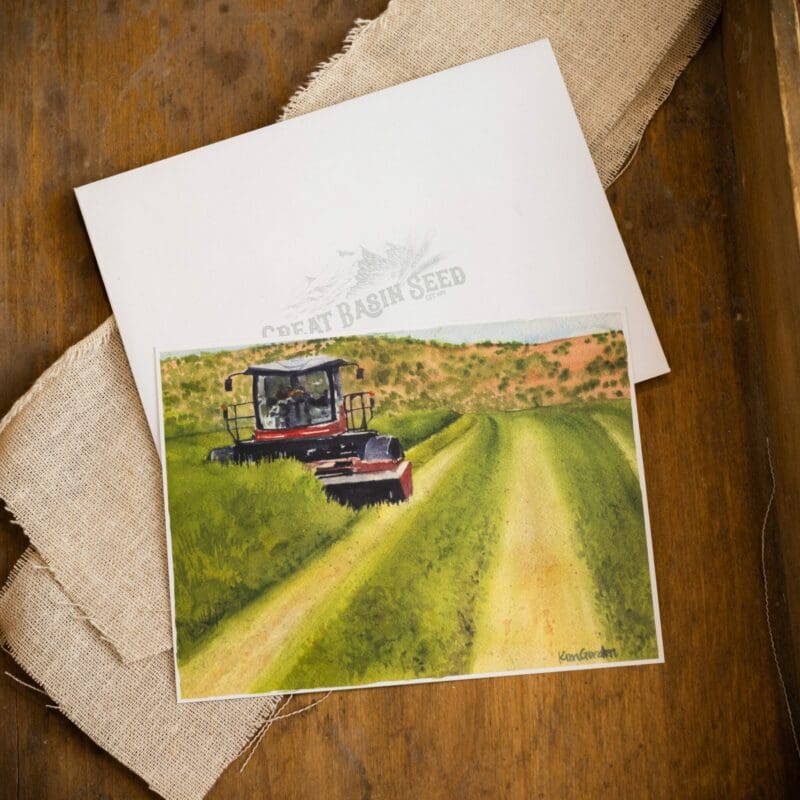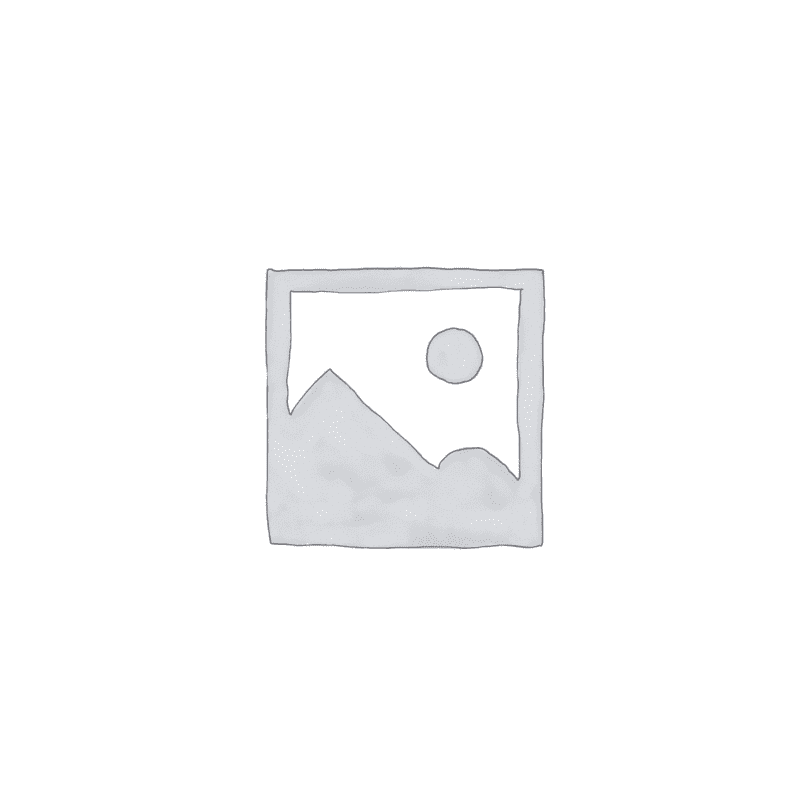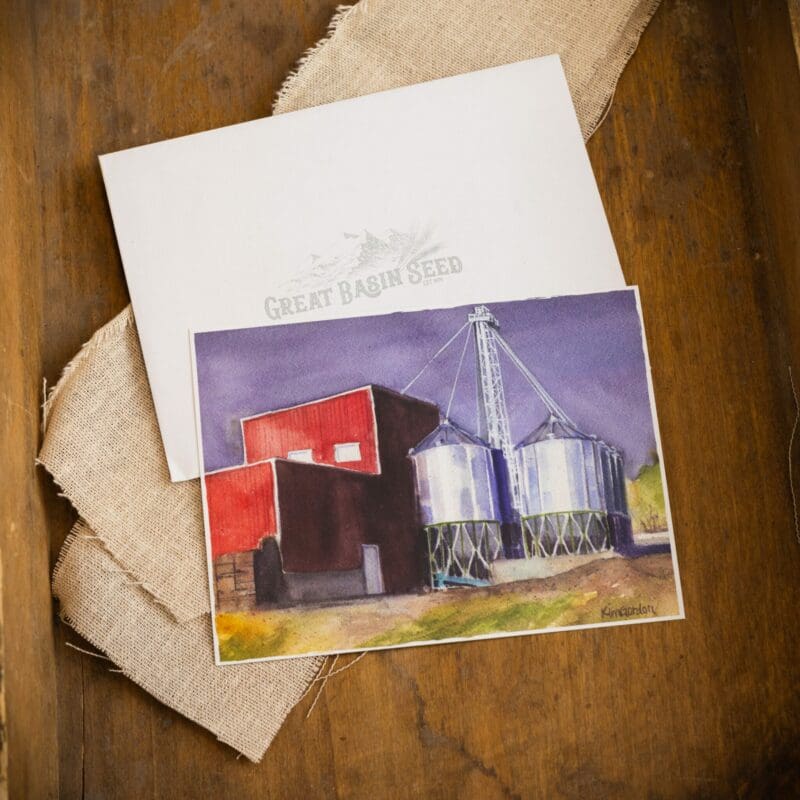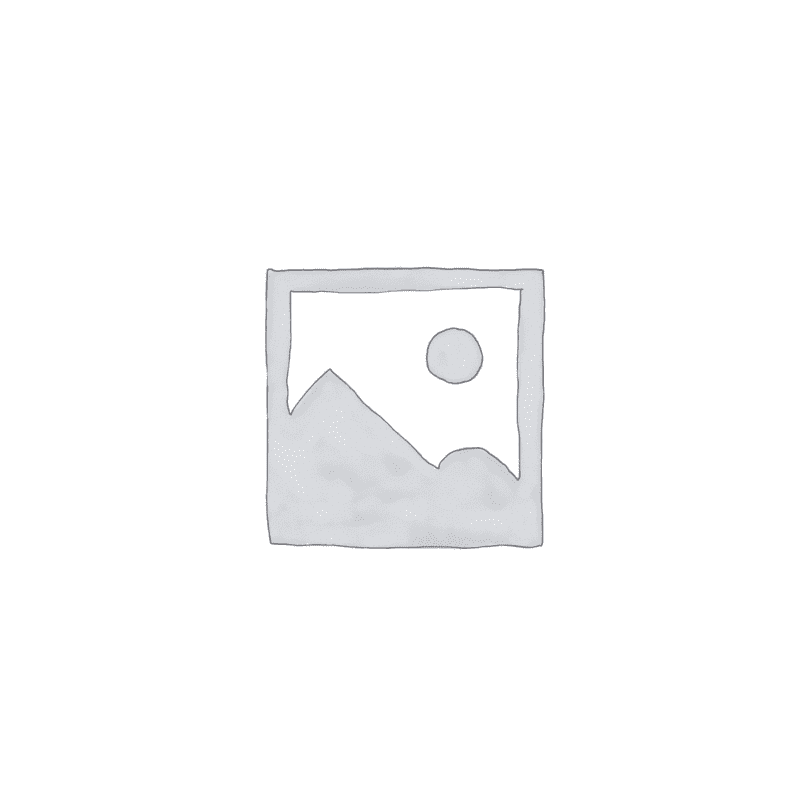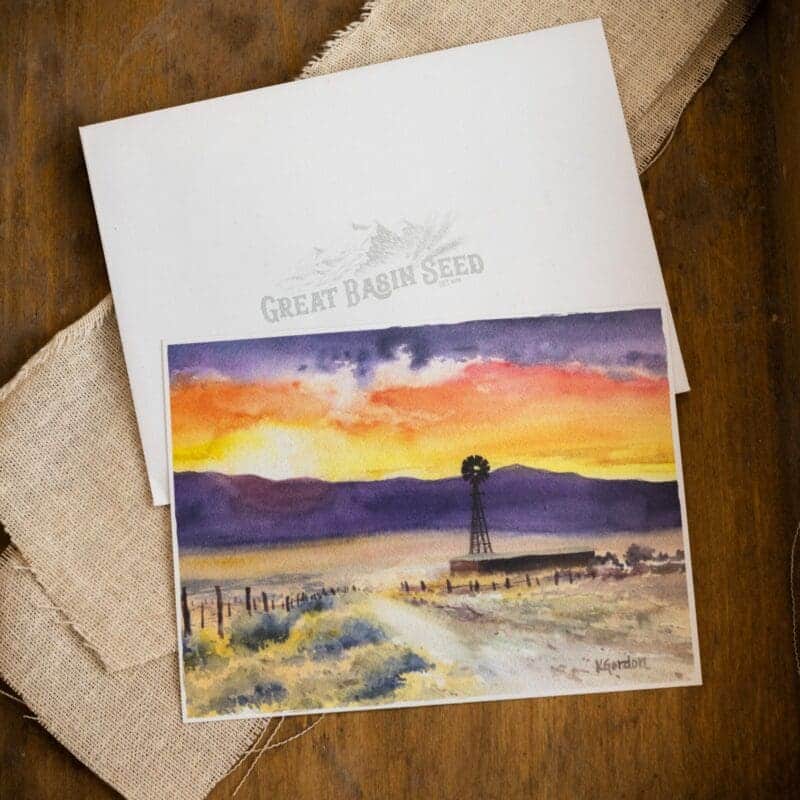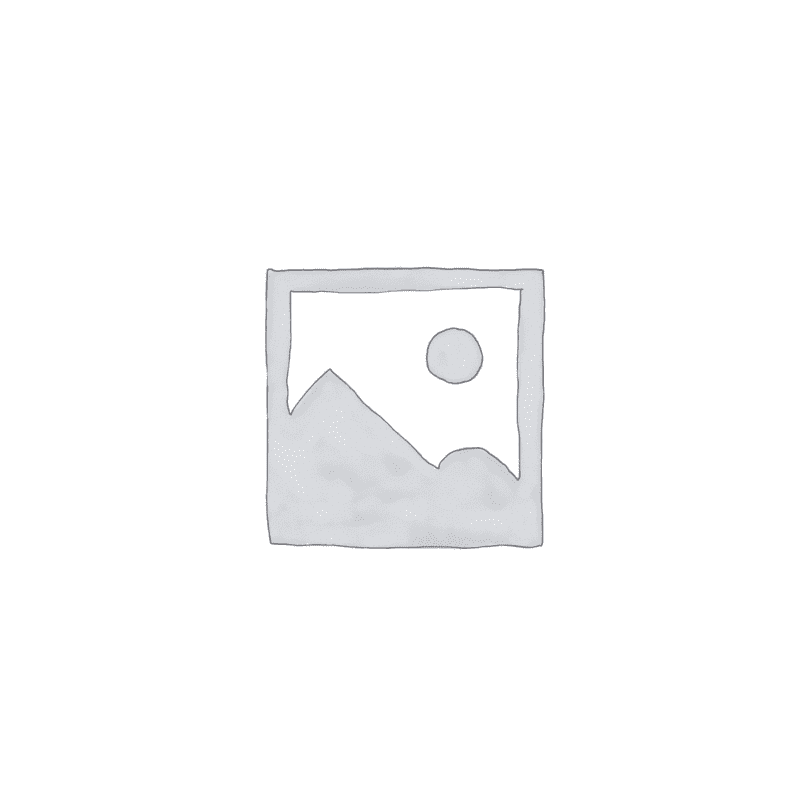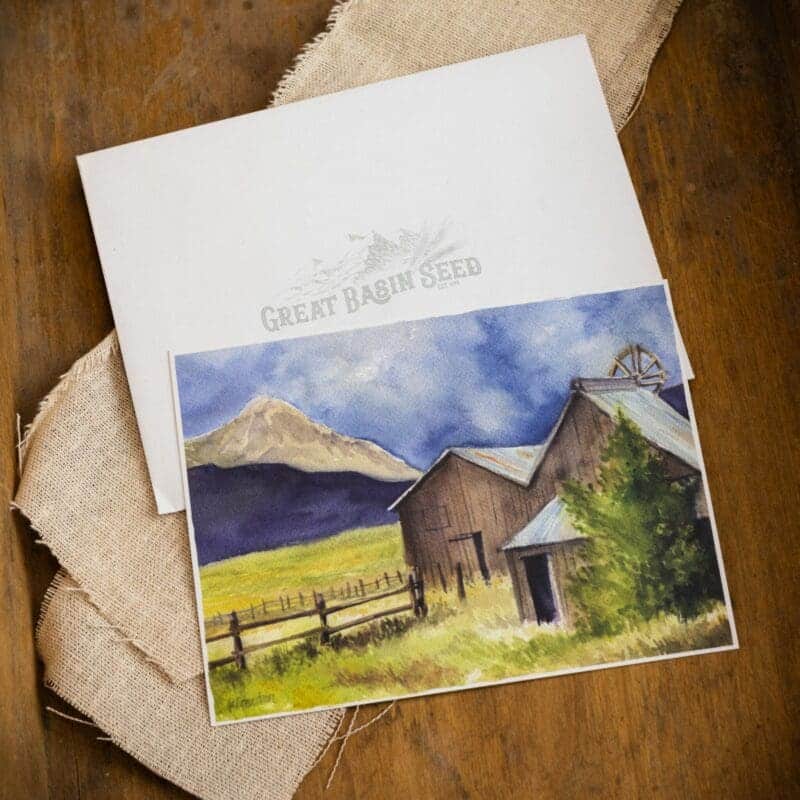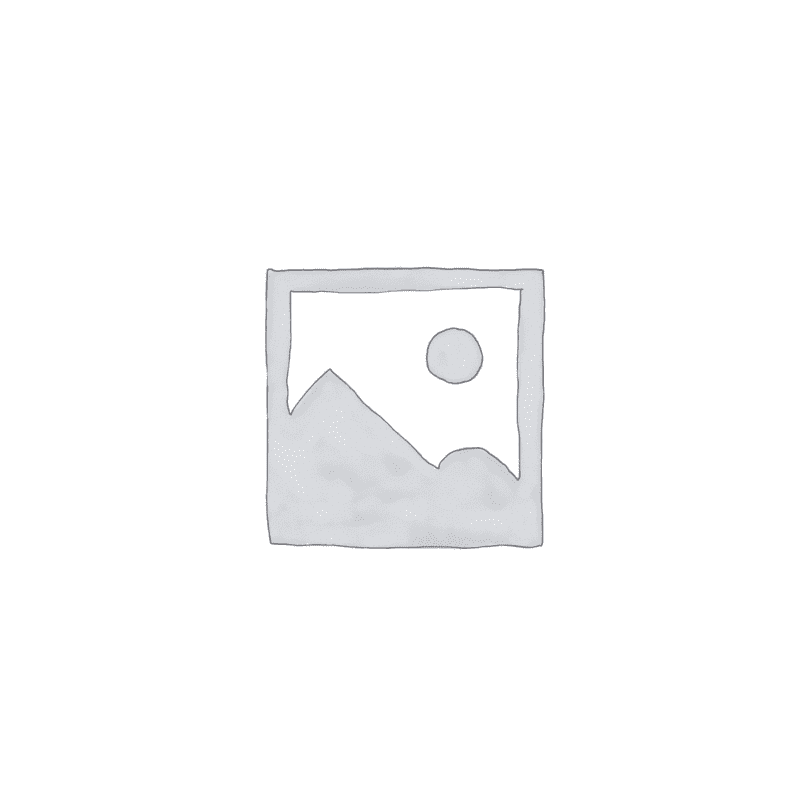 Great Basin Seed Postcards
Watercolors by local artist Kim Gordon
5 different postcards
Paintings of local artifacts and scenes
6″ X 4.5″ postcards
Delivered in a 6.5 X 5 gift envelope
---
---
The Great Basin Seed Postcard Pack is a collection of five postcards. Each postcard features a water color painting by local artist Kim Gordon. Each postcard features of scene painted from a real-life western setting.
Postcard 1: Antique combine
Postcard 2: Swather cutting our Prosper 3-Grain Forage Blend
Postcard 3: Great Basin Seed silos and conditioning plant
Postcard 4: Windmill and water tank
Postcard 5: Dechambeau Ranch, Mono Lake CA
Correspond with the ones you love – these postcards are printed to USPS standards.
Postcards measure 4.5″ tall X 6″ wide
Kim Gordon is a Utah-based artist working in watercolor, drawing, printmaking, and bookmaking. She is an active member of the Utah Watercolor Society and has exhibited work in many of their shows, recently receiving a Merchant Award. She has exhibited work at Snow College Art Gallery, Springville Museum of Art, and the Sego 3 Gallery. Born in Arizona and raised in Colorado, Gordon earned a Bachelor of Fine Arts degree in Art Education from Utah State University, and an Associate of Arts degree from Snow College.
Kim currently teaches drawing and design at Snow College in Ephraim, Utah where she resides with her family and paints the wilds of the west.
Who is Great Basin Seed?
Great Basin Seed is a seed company that specializes in seed sales and consultation for home, ranch, farm, range and reclamation. We have been a leader in the seed industry since 1974.
Our History
We've been in the seed business since 1974.
What We Offer
We offer seed for home, farm, ranch, range and reclamation projects.
Meet the Gang
We have the best employees in the world! We are proud of the work they do, and trust them to serve you!
Right: Company founder Lloyd and his wife Paula Stevens in a wildflower seed production field circa 1977
Quick Plant Facts
| | |
| --- | --- |
| Colors/Style | Black, Red, Pink, Blue |