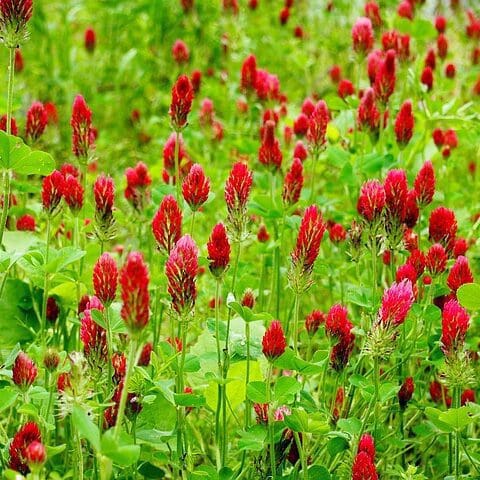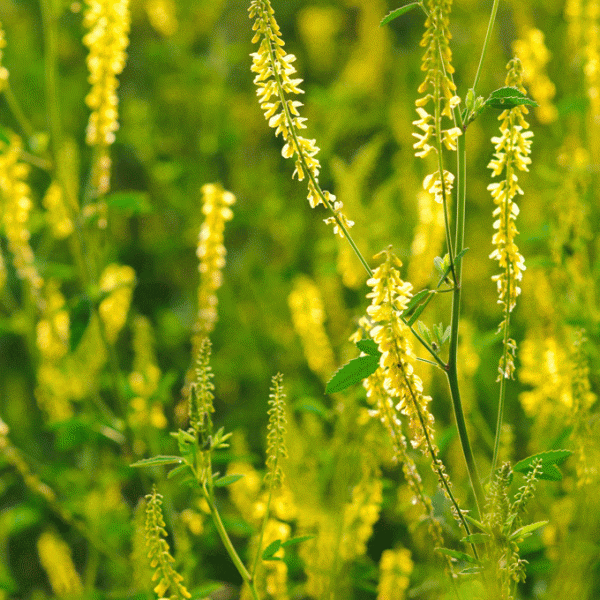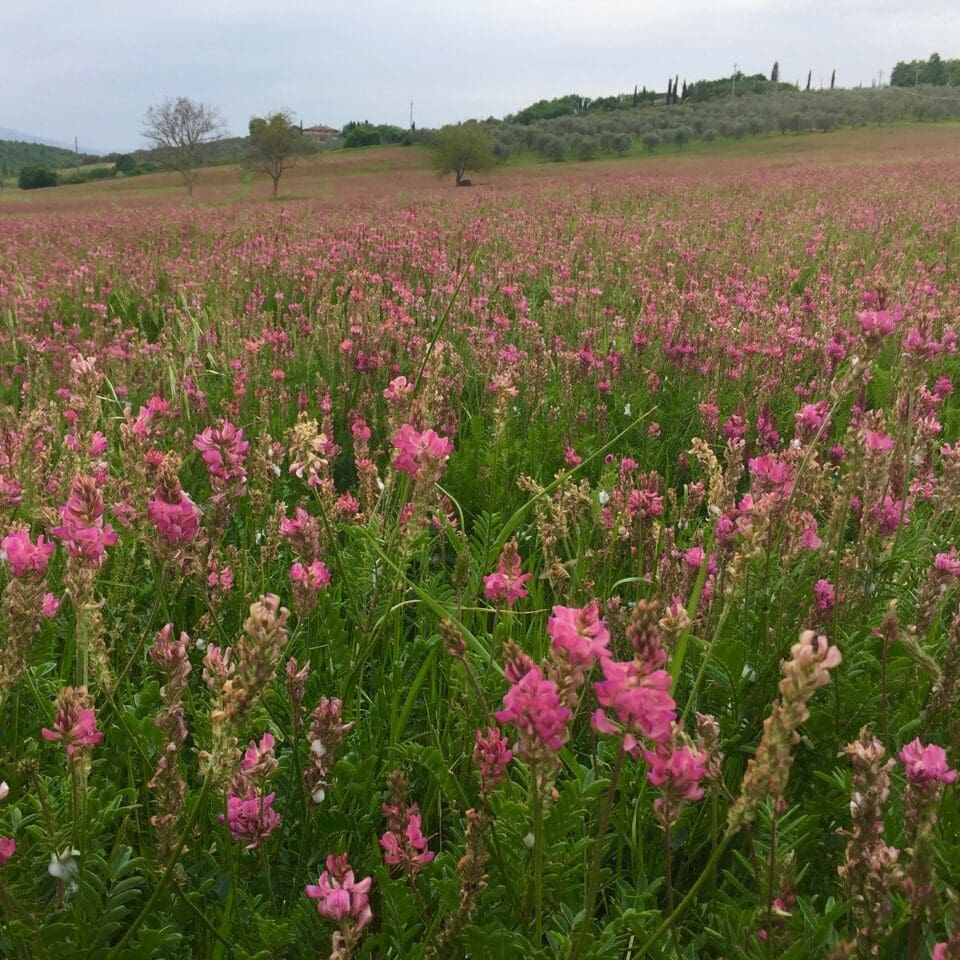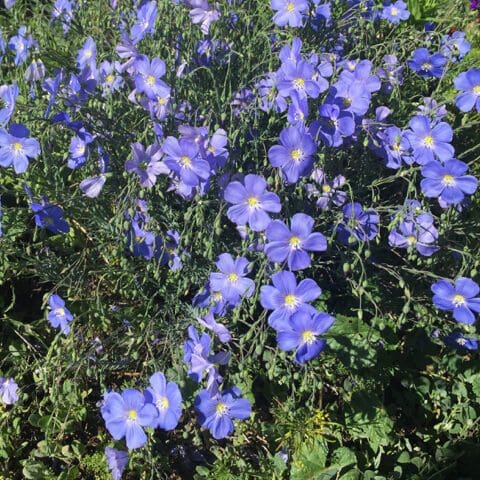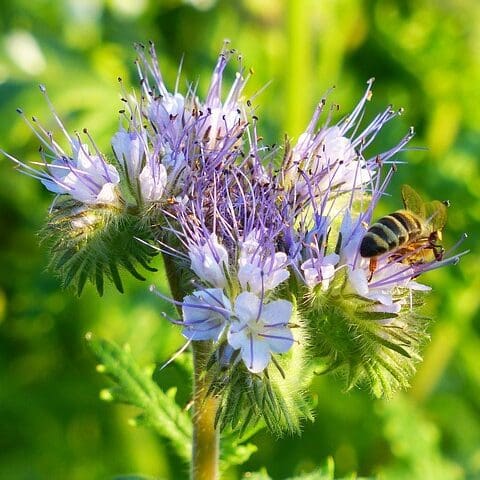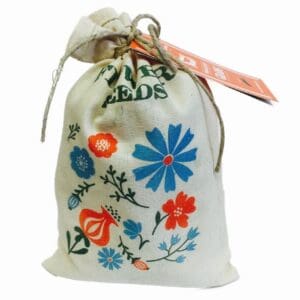 Honey Bee Pasture Mix
A blend of clovers, legumes and flowers
Inexpensive, rapid establishment
Can be grazed by livestock or used as green manure
Packaged in our durable, attractive canvas bags
1 pound covers 2500 square feet
---
---
Honey Bee Pasture Mix
Honey Bee Pasture Mix is a blend of clovers, legumes and flowers that are well known to attract honey bees and beneficial bugs throughout the growing season. This mix is suitable anywhere in the lower 48 states except high mountain valleys (above 7,000 feet) and the tropical south.
This honey bee mix is designed for inexpensive rapid establishment to provide fast pollen and nectar for honey bees. It can also be be grazed by livestock or used as green cover or green manure.
The mix contains the following species:
25% Crimson Clover (annual)
25% White Dutch Clover (perennial)
15% Yellow Sweet Clover (perennial)
15% Alsike Clover (perennial)
10% Sainfoin (perennial)
5% Phacelia (annual)
5% Blue Flax (perennial)
Honey Bee Pasture Mix is packaged in our durable, attractive 1 pound canvas bags.
1 pound covers 2500 square feet.
Detailed site preparation and sowing instructions are included with the packaging.
Note on Crimson Clover:
There is  misinformation concerning Crimson Clover and honey bees, and you may have read that Crimson Clover is not desirable by bees. This is not true. The confusion stems from mistaken identity. Red Clover (Trifolium pratense) is not a honey bee favorite due to the deep flowers – the bees have trouble reaching the pollen. But Crimson Clover (Trifolium repens) is an excellent honey bee plant and will produce a high quality honey crop. Crimson Clover also has the added benefit of being very fast to establish, so it produces quick results.
Honey Bee Flower Mix
13% Siberian Wallflower (Cheiranthus allionii)
9% California Poppy (Eschscholzia californica)
9% Calendula (Calendula officinalis)
9% Lance-Lvd. Coreopsis (Coreopsis lanceolata)
9% Sulphur Cosmos Mix (Cosmos sulphureus)
9% Blanketflower (Gaillardia aristata)
9%  Blue Flax (Linum perenne)
7% Sweet Basil (Ocimum basilicum)
4.5% Corn Poppy (Papaver rhoeas)
4.5% Rocky Mountain Beeplant (Cleome serrulata)
4.5% Cosmos (Cosmos bipinnatus)
4.5% Purple Prairie Clover (Dalea purpurea)
4.5% Rocky Mountain Penstemon (Penstemon strictus)
2%  Lacy Phacelia (Phacelia tanacetifolia)
1% Prairie Coneflower (Ratibida columnifera)
0.5%  Scarlet Cinquefoil (Potentilla thurberi)
Establishment:
When you plant can vary based on your climate, rainfall patterns and the species you are planting. Generally speaking, However, annuals and perennials or annual/perennial mixes perform best when planted in spring, early summer or late fall. If fall planting is your method, plant late enough in the fall that your seeds remain dormant and do not germinate until spring. Perennials can be planted in early fall if there are at least 10-12 weeks of growing time before the plants go into winter dormancy. In mild climates plant during cooler months for best results.
Site Preparation:
For best results plant on cleared ground. Remove all weeds, grasses and existing vegetation before planting. Loosen compacted soil by scraping, tilling or scarifying. Tilling should be utilized only when soil is very compact. If soil is tilled, take care not to plant seeds deeper than 1/4 inch.
Planting Rate:
Wildflowers are generally plated at a rate of four to five pounds per acre, although it is not unusually to recommend or plant six to eight pounds per acre. A planting rate in the minimum range is usually sufficient to establish a good stand of wildflowers on prepared soil with adequate maintenance. The maximum rate is recommended when ideal soil preparation and weed control are not possible, or when a maximum display is required. Poor perennial establishment may result if the maximum seeding rate is exceeded, as the plants will compete with each other for real estate, water and sunlight.
Watering:
The watering cycle for establishing wildflowers is similar to establishing a new lawn. Keep the soil wet during the establishment process. Success is most likely to be achieved if you begin by watering in a high frequency – low duration pattern. This generally means watering at least once a day if seeds are sown early spring. Two waterings per day may be necessary in late spring and early summer plantings, or in arid climates. At approximately 4-5 weeks you can reduce the frequency of watering. Be mindful of your wildflowers during the hottest and most intense sun days and supplement with additional water when necessary. Early morning watering is best.