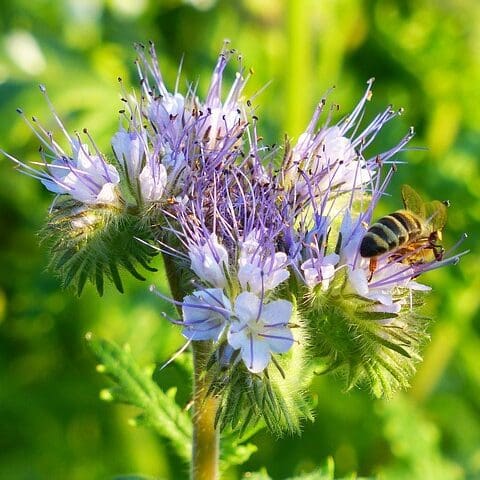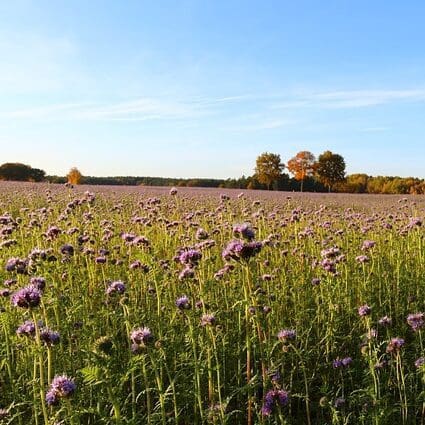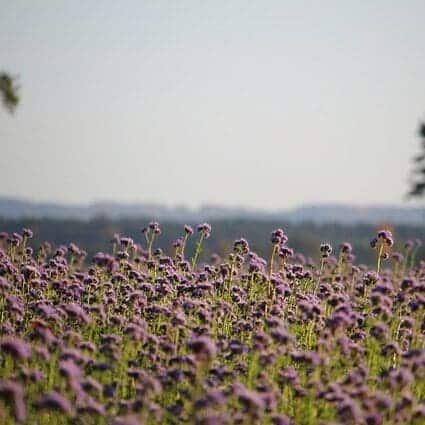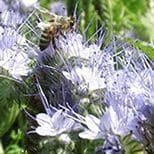 Phacelia
Fast growing, grows 2 – 4′ Tall
Excellent for cover crop mixes
5-10 day germination
Nitrogen and calcium accumulation
Attracts bees and beneficial insects
Competes well with weeds
Plant in early fall in most climates
---
---
Phacelia (Annual Phacelia), also known as lacy phacelia, or blue/purple tansy, is a quick-growing, flowering plant that can reach heights of up to 4 feet. This crop is adaptable to a wide range of soils ranging in pH from 5.5 to 8.6.  It can withstand cold temperatures of about 20 degrees Fahrenheit, making it an an excellent choice for fall. Many farmers have used Phacelia (Annual Phacelia) as a source of high quality nectar and pollen to increase the population and diversity of beneficial insects for their crops.
It was originally native to the Southwestern United States and northern Mexico but it is now used in many places in as a cover crop. It is superb for bees and honey production. Long, coiling inflorescences of nectar-rich flowers open in sequence, giving a long flowering period. It blooms mid-late summer when other blossoms have disappeared. It is an attractant for beneficial insects and an ornamental plant. It is a good insectary plant, attracting many pollinators. It is easy to plant, has excellent germination and does not require inoculant, thou inoculant will increase germination and speed the growing process..
5-10 day germination
Grows 2 – 4′ Tall
Nitrogen and calcium accumulation
Attracts bees and beneficial insects
Competes well with weeds
Plant in early fall in most climates
Excellent for cover crop mixes
*** Click on the "Quick Plant Facts" tab above for more information.
Lacy Phacelia NRCS Plant Guide
PDF version of NRCS Plant Guide & Fact Sheet
Citation: Smither-Kopperl, M. 2018. USDA-Natural Resources Conservation Service, Lockeford Plant Materials Center, Lockeford, CA 95237.
Download PDF
Quick Plant Facts
| | |
| --- | --- |
| Common Name: | Phacelia |
| Scientific Name: | |
| Lifespan: | |
| Native or Introduced: | |
| Plant Type: | |
| pH Tolerance: | |
| Seeds per lb. | |
| Growth Height: | |
| Root Form: | |
| Planting Rate: | Monoculture: 8lbs/acre drilled In Mixes: 1-2lbs/acre drilled |
| Minimum Precipitation: | |
| Best Time to Sow: | |
| Max Sowing Depth: | |
| Growth Season: | |
| Sun & Shade Tolerance: | Full sun, Partial shade |
| Elevation of Occurance: | |
| Hardiness Zones | |