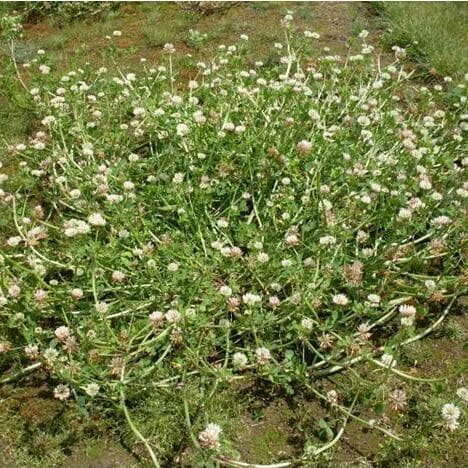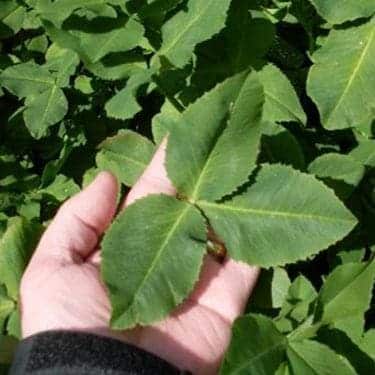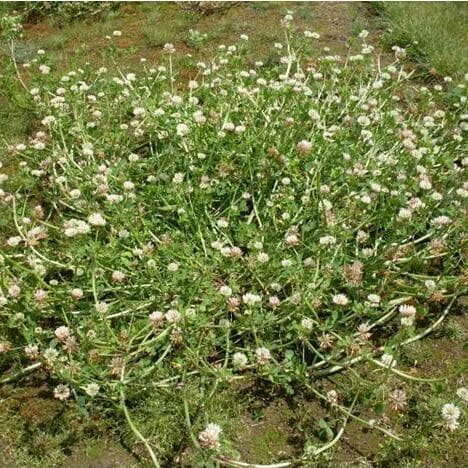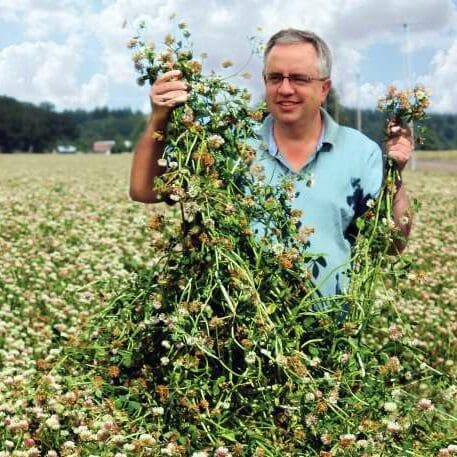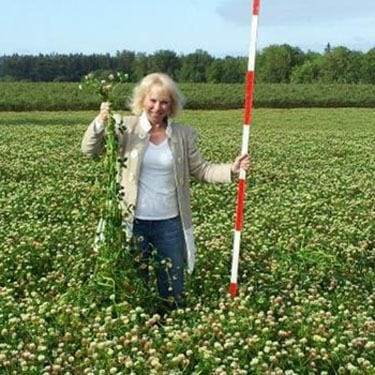 Balansa Clover
Scientific name: Trifolium michelianum
Cool-season annual legume
Very high forage performance
Adapted to a wide range of soils
Often used as a cover crop for nitrogen production
Suppresses weeds
Sold in 50 pound bags
---
---
Balansa Clover (Trifolium michelianum)
Balansa Clover (Trifolium michelianum) is a cool-season annual legume native to the northeastern Mediterranean region. Balansa clover is capable of high forage performance over an extremely wide range of soils. It performance well on both acid and alkaline soils (pH4.5 to pH 8.3). It is quite tolerant of waterlogged soils. It can even withstand short periods of flooding. It is mildly tolerant of saline soils.
Balansa clover (Trifolium michelianum) can be used in mixtures with other legumes and grasses in pasture situations where it can re-generate from seed under proper management conditions. In pasture applications, Balansa clover will not only improve the quality and yield of the forage, but it can also create substantial quantities of nitrogen.
Other applications include silage (by itself or in rota- tion with corn silage), as a cover crop for nitrogen production and weed control, and in over-seeding warm season grasses and crops that can utilize the nitrogen created by the clover over the winter months.
Balansa Clover Traits
Balansa clover is quick to germinate, however the first stage of its growth is spent in forming a multi-branched rosette emerging from a single taproot. As the plant matures it will continue to grow and pro- duce blossoms that are very attractive to pollinators. Balansa clover is capable of producing large amounts of hard seed. If managed properly it can regenerate from seed for up to 3 years.
Balansa matures approximately 14 days later than Dixie Crimson Clover and as much as 28 days later than other commercially available varieties. Despite being later in maturity, overall growth is greater than that of the earlier maturing Balansa clover varieties throughout the growing cycle. The later maturity allows for multiple cuttings/grazing and reduces the likelihood of unwanted re-seeding. Fully developed plants exhibit excellent re-growth, and recover more rapidly than other clovers.
Forage yield is quite impressive, yielding as much as 5,250 lbs of extremely digestible dry matter in a single cutting. Plants are able to support growth up to 3 feet high with stems as long as 8 feet long. Crude protein levels range from 22% to 28.4% with relative feed values measured as high as 277.
Balansa Clover as a cover crop
This variety performs best when fall seeded. The rosette growth habit that hugs the ground assists in its ability to withstand cold temperatures.
Balansa clover (Trifolium michelianum) survived an experiment in which clover plants were taken from 65ºF and placed overnight in a cold growth chamber set at 5 degrees Fahrenheit. It has survived winter temperatures as low as 5 degrees with no snow cover. As spring temperatures begin to warm stems elongate and quickly outgrow the weed population. In Oregon trials it was able to outgrow and smother rogue daikon radish plants that had not winter-killed.
Balansa Clover for Forage
Clover will aggressively produce forage in the spring and early summer months. Well established fields are capable of withstanding multiple cuttings/grazings. This variety plants retain actively growing leaves from the tip of the stem to the rosette at the soil surface. This growth habit allows for better recovery than seen in Crimson, Arrowleaf, and other annual clovers. Fixation is capable of re-seeding if properly managed. Populations will begin to thin. Fields allowed to re-seed will need new seed applied after the third year. Fixation is capable of surviving water-logged soils and even short-term flooding.
Frost seeding by broadcasting on established pastures is one method of sowing. Balansa clover can be successfully broadcast sown due to its small seed and hardiness. It will establish under proper management in existing forage. Studies in New Zealand show that Balansa clover is a better component in pasture mixes than white clover. The life cycle is ending when grass components are becoming stressed, leaving available moisture and nutrients for grass.
Balansa excels in pastures.  The nitrogen collected in the plant is released annually back into the soil for grasses to utilize. Perennial clovers like white clover will utilize the majority of the nitrogen that they create for their own preservation. They give up little to the grasses. It has a deep tap root structure. It will delve deep into the soil and pull up nutrients that can later be used for grasses. The deep root structure will pull moisture from below the root profile of the grasses and will not compete for limited moisture as will white clover.
The root systems of the grasses make use of the rooting pathways created by Fixation and as a result can go deeper into the soil profile increasing the summer performance of the grasses. The high forage quality of Balansa clover also makes it an excellent choice for over-seeding/ frost-seeding into alfalfa hay fields. It will thrive were alfalfa is likely to succumb, filling in wet areas and other bare spots.
Balansa Clover for Wildlife
Balansa clover (Trifolium michelianum) is suitable for use in wildlife mixes. Deer and waterfowl favored it in forage trials across the USA.  It is a high protein, highly digestible forage. The high protein levels are readily available to the deer leading to larger racks and body mass.
This product has a 10 pound minimum order
Helpful Links
Additional information about this product can be found on the academic websites linked below.
Synonyms
Many plants have more than one common and scientific name. We've listed a few of them below.
Balansa Clover
Trifolium michelianum
T. michelianum
Who is Great Basin Seed?
Great Basin Seed is a seed company that specializes in seed sales and consultation for home, ranch, farm, range and reclamation. We have been a leader in the seed industry since 1974.
Our History
We've been in the seed business since 1974.
What We Offer
We offer seed for home, farm, ranch, range and reclamation projects.
Meet the Gang
We have the best employees in the world! We are proud of the work they do, and trust them to serve you!
Right: Company founder Lloyd and his wife Paula Stevens in a wildflower seed production field circa 1977
Quick Plant Facts
| | |
| --- | --- |
| Scientific Name: | |
| Lifespan: | |
| Native or Introduced: | |
| pH Tolerance: | |
| Plant Height | |
| Plant Type: | |
| Minimum Precipitation: | |
| Growth Season: | |
| Seeds per lb. | |
| Max Sowing Depth: | |
| Planting Rate: | |
| Best Time to Sow: | |
| Sun & Shade Tolerance: | Full or Partial Sun |
| Available Varieties: | |
| Root Form: | |