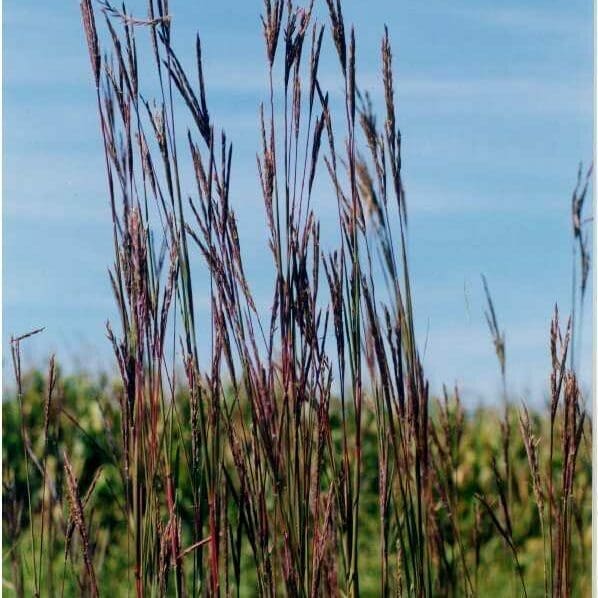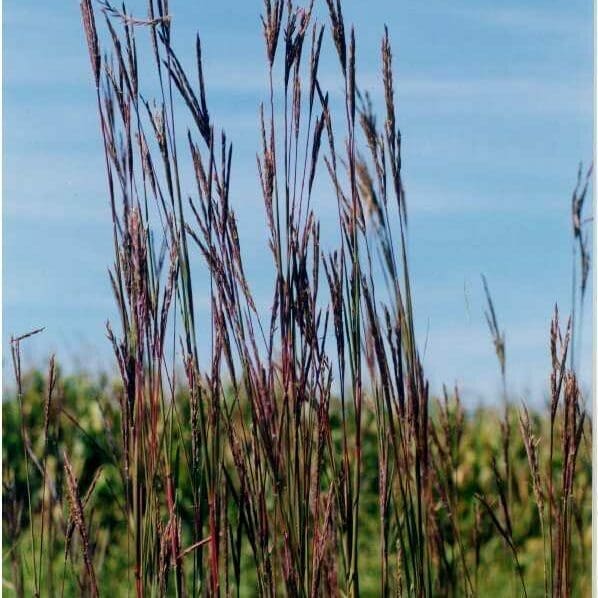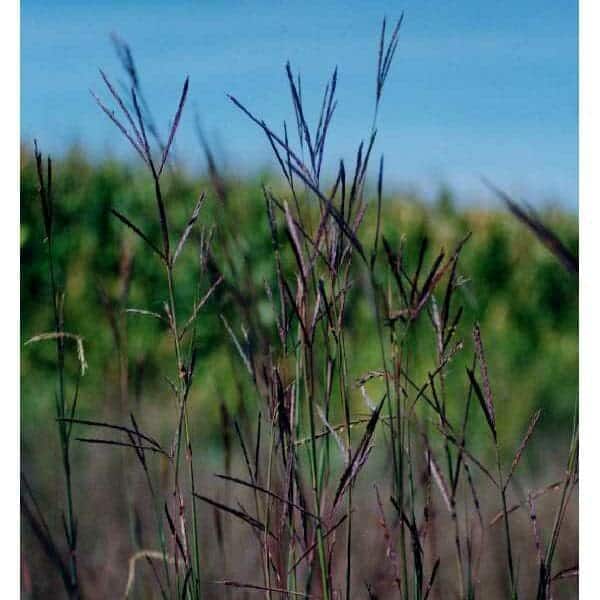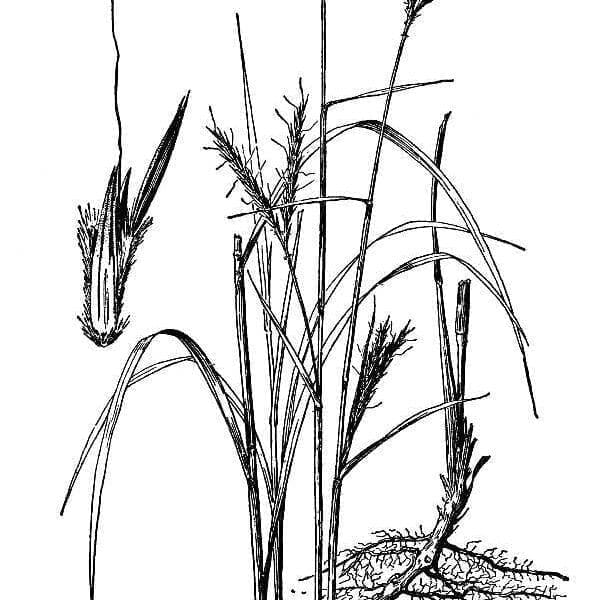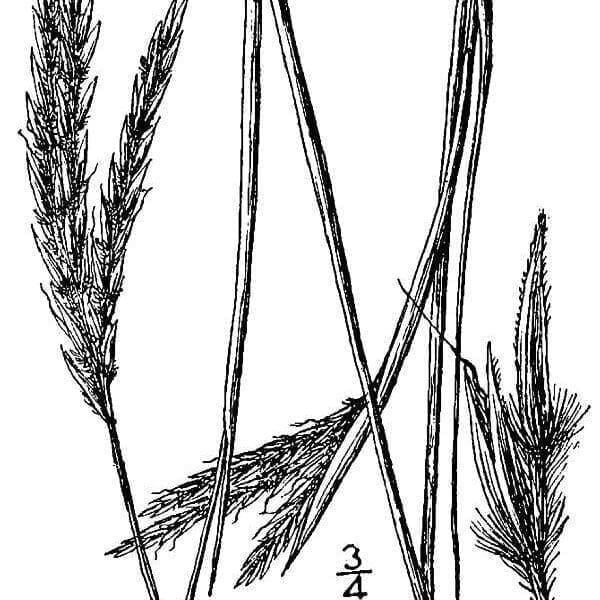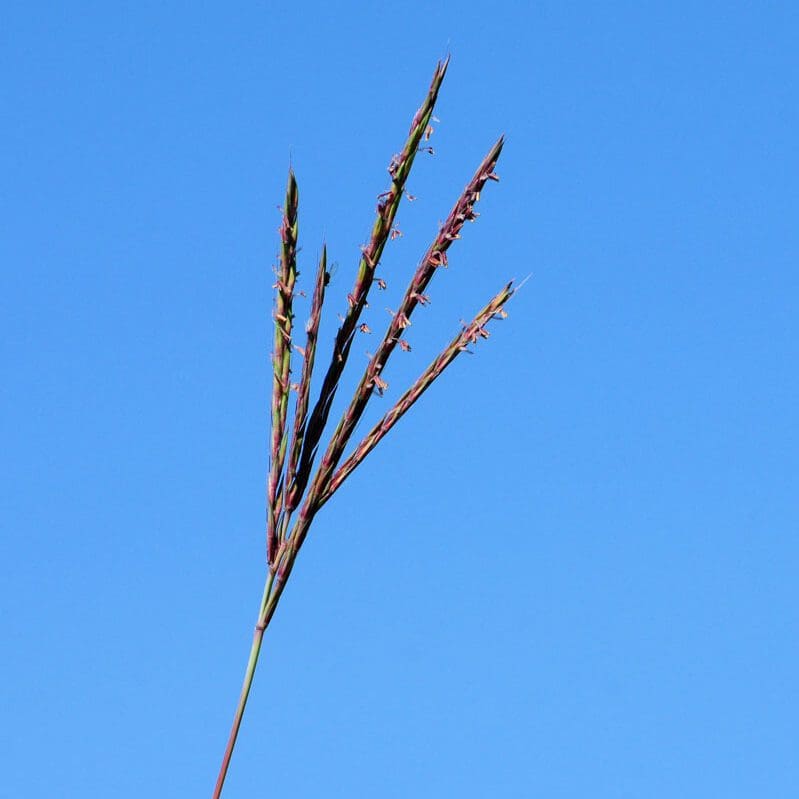 Big Bluestem
Scientific Name: Andropogon gerardi
Native dominant grass of the Midwest tall grass prairie
Helps stabilize soil
Provides aboveground protection against wind erosion
High quality forage species for all classes of livestock
---
---
Big Bluestem (Andropogon gerardi) is the dominant grass species of the Midwestern tall grass prairie and is native to the United States. It occurs in southern Canada, from Maine to Montana, south to Florida and New Mexico and into Mexico. It is mixed with other native prairie species for prairie restoration and highway revegetation. It is a perennial warm-season grass. It can be distinguished from other warm-season grasses by blue coloration at the base of the culm and purplish, 3-parted flower clusters that resemble a turkey's foot. It is found in open woods, prairies, meadows, along riverbanks, and roadsides. It is especially abundant in lowland prairies, overflow sites, and sandy areas.While it does best in moist soils, it can be used for mine reclamation, logging road restoration and other restoration areas that have sandy or droughty conditions.
Big bluestem (Andropogon gerardi) is planted to stabilize soil. Rhizomes are typically 1 to 2 inches below the soil surface, while the main roots can extend downward to 10 feet. Big bluestem is also planted to provide aboveground protection against wind erosion. It is used for road cuts, pipelines, detention basin slopes, and areas that need temporary cover during the restoration process. Underground rhizomes re-sprout following fire disturbance. Regeneration is slow if fire occurs during the summer (active growth stage). Regeneration following springtime fire is much more vigorous because the rhizomes have winter-stores of carbohydrates.
Big bluestem is a high quality forage species for all classes of livestock. Crude protein content of 16-18% is maintained from May through August but drops below 6% in September and October. It is often cultivated as a pasture grass and for hay- making.
The USDA hardiness zones for big bluestem are 4 to 9. It is best adapted to moist, sandy or clay loams but also occurs in dry or shallow soils. It does well in full sun or partial shade. Prairie conditions, like low nutrient and moisture content, have conditioned big bluestem for use in well-drained soil with low fertility. It is not tolerant of heavy clays, extremely wet bottomlands, deep sands, high salinity, or high lime.
Big bluestem can withstand substantial grazing. However if it is continually grazed closer than 6 to 8 inches, it will be out competed by other grass species. It is highly palatable to livestock during spring and summer and becomes coarse and less palatable during the fall and winter. Hay should be sowed in early to mid-summer to maintain high nutrition quality. Big bluestem provides shelter for nesting birds and insects. Songbirds and prairie chickens consume the seeds while white-tailed deer and bison graze vegetative parts.
Synonyms: Bluejoint beardgrass, poptillo gigante, turkeyfoot
***click the "Quick Plants Facts" tab above for more information.***
Big Bluestem NRCS Plant Guide and Fact Sheet
PDF version of NRCS Plant Guide & Fact Sheet
Prepared By & Species Coordinator: USDA NRCS Plant Materials Program
Download PDF
Helpful Links
Additional information about this product can be found on the academic websites linked below.
Synonyms
Many plants have more than one common and scientific name. We've listed a few of them below.
Big Bluestem
Trifolium alexandrinum
Who is Great Basin Seed?
Great Basin Seed is a seed company that specializes in seed sales and consultation for home, ranch, farm, range and reclamation. We have been a leader in the seed industry since 1974.
Our History
We've been in the seed business since 1974.
What We Offer
We offer seed for home, farm, ranch, range and reclamation projects.
Meet the Gang
We have the best employees in the world! We are proud of the work they do, and trust them to serve you!
Right: Company founder Lloyd and his wife Paula Stevens in a wildflower seed production field circa 1977
Quick Plant Facts
| | |
| --- | --- |
| Common Name: | Big Bluestem |
| Scientific Name: | |
| Lifespan: | |
| Native or Introduced: | |
| Plant Type: | |
| pH Tolerance: | |
| Seed Count | 130,000 seeds/lb. |
| Growth Height: | |
| Root Form | Bunchgrass/Sodformer |
| Sowing Rate | 6-11 PLS lbs. per Acre |
| Min. Precipitation | 18 Inches Minimum |
| Best Sowing Time | Summer |
| Max Sowing Depth: | |
| Growth Season: | |
| Sun & Shade Tolerance: | Full Sun |
| Available Varieties: | |
| Zone Map | comingsoon.gif |
| Hardiness Zones | |