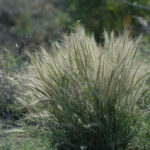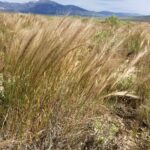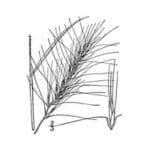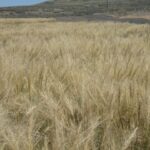 Bottlebrush Squirreltail
Bottlebrush Squirreltail
Used extensively for erosion control and reclamation
Very effective at controlling wind and water erosion
Adapted to a wide range of ecological and topographical conditions
Can compete with and replace annual weedy species following fire
One of the most fire resistant native bunchgrasses
Quantity is per pound. Example: 1 = 1 lb, 2 = 2 lbs, 3 = 3lbs, etc. This is pure seed, not a live plant.
---
---
Bottlebrush Squirreltail, previously known as Sitanion hystrix. Bright green perennial with bristly head. Grows in scattered areas. Used extensively for erosion control and reclamation. When in large, dense stands, squirreltail is very effective at controlling wind and water erosion, due to its persistent ground cover.
Bottlebrush Squirreltail can be found throughout western North America from Canada to Mexico. It grows in a wide range of habitats, from shadscale communities to alpine tundra. Squirreltail is adapted to a wide range of ecological and topographical conditions. Plants can be found from 2,000 to 11,500 feet elevation, in desert shrub to alpine plant communities. Squirreltail grows well in medium to fine-textured soils, but also commonly occupies coarse-textured to gravelly soils. It tolerates low to moderately saline to alkaline run-in
Squirreltail is a short-lived perennial grass which can compete with and replace annual weedy species following fire. It is thought that after squirreltail establishes, annual weedy species should decrease in frequency and longer-lived, native perennials may be more successfully reseeded and established. Its ability to germinate in the late fall and very early spring at a wide range of temperatures add to its capability to compete with cheatgrass (Bromus tectorum L.). Studies also indicate that squirreltail is capable of establishing in medusahead infested sites. This makes squirreltail one of the more competitive native grasses available for reseeding disturbed rangelands. It is also a self-fertilizing species which allows it to produce seed despite sparse stands following seeding.
Squirreltail is considered to be one of the most fire resistant native bunchgrasses. Older plants contain relatively low amounts of dead material when compared with other native bunchgrasses. This allows for hot, but quick burns which do not penetrate and damage the crown. However, during dry years plants can be damaged by severe burns. As an early-seral species, new plants often increase for two to three years following burns.
Squirreltail is fair to desirable forage for cattle, horses and sheep in spring before seed head development and late summer to fall after seed shatter. The long, sharp awns of the florets and glumes can be injurious to grazing animals during mid to late spring into summer. Leaves green up in very early spring and are palatable through the fall, especially following rain. The tendency for some leaves to remain green through the winter makes squirreltail an important, though not especially nutritious, winter forage species. Table 1 shows crude protein levels for the spring, summer and winter.
Additional information
| | |
| --- | --- |
| Weight | 1 lbs |
| Common Name: | Bottlebrush Squirreltail |
| Scientific Name: | |
| Old Scientific Name: | |
| Native or Introduced: | |
| Growth Season: | |
| Lifespan: | |
| Plant Type: | |
| Sowing Rate | 7-12 PLS lbs. per Acre |
| Seed Count | 192,000 seeds/lb. |
| Best Sowing Time | Fall or Spring |
| Max Sowing Depth: | |
| Available Varieties: | |
| Min. Precipitation | 5 – 6 Inches Minimum |
| Zone Map | comingsoon.gif |
| Root Form | Bunchgrass |
| Growth Height: | |
| Sun & Shade Tolerance: | Full Sun, Shade Intolerant |
| Elevation of Occurance: | |
| pH Tolerance: | |